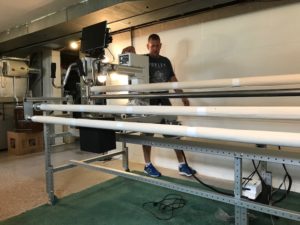 Well, it's HERE.  Standing behind it, is Mark from Accomplish Quilting, who delivered and put it together.  I have to say, he sure knew what he was doing.  Did a quality install job, and the quality of the equipment is amazing.  Extremely sturdy.  Had this been my first machine, I might have been more intimidated..
I'm very pleased with the different features it has (at least the ones I've figured out so far!!) I will be doing to Accomplish Quilting in Michigan in September for a few classes.
Soon, my handyman Al will be putting new carpet squares down.  I'll take a picture of the room then, too!
Stay tuned!
————————————
I'm excited to announce that I have purchased a new machine!  After 6 years of quilting, I decided it was time to upgrade my equipment.  I purchased an Innova Navigator, and it will have a 12′ frame, so my width will no longer be limited to 100″ wide, for you king-sized quilters….there were a few of you, but not too many that I couldn't do…more than 100″ is ONE BIG QUILT!
Stay tuned for pictures of the new machine once it comes!  I'm delighted to be working with Accomplish Quilting from Saint Joseph, Michigan, and Julie Lillo who was extremely helpful!