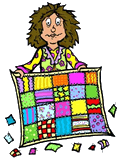 Welcome to the (finally) updated site!  I've been putting this off for way too long, but was recently even more inspired by some beautiful quilts.  Check back often to see if your quilt is on the site!  (Although you'll know, because I will have asked in advance 🙂 )
Thanks for looking at my web page for your longarm quilting needs.  I am located in Amherst, Ohio.  My goal is to get your tops quilted in a professional, affordable way.  Turnaround time is usually within 2 weeks, if not sooner.
Be sure and check out the Featured Quilts page…I am going to do a better job keeping this site updated and hope to post many more pictures of beautiful customer quilts.
The Label page will hopefully be updated this week, with new labels you can have made for your quilt.
I should mention that due to the mountains of spam I received from this site, comments have been disabled.  If you wish to email me, please do so at the address from the contact info.
Keri Celik