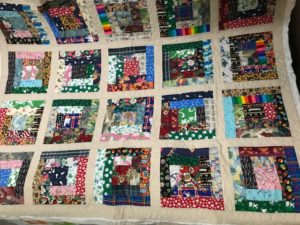 There is a very neat story to this quilt.  It was made by Rosemary, a first-time customer, who told me that she had recently retired as a Respiratory Therapist.  Her mother would make her vests to wear with her scrubs, out of novelty fabrics.  When Rosemary retired, I believe she told me it was her daughter who convinced her to make a quilt out of these vests.    She said her mother was quite a sewist (I know, that's not a word 🙂 ,  and her daughter inherited the same love for sewing.  Rosemary claimed that it had skipped over her, but I have to say, after seeing this quilt, I'm not sure I believe that – she did a beautiful job, and what a neat way to remember all the vests her mother made!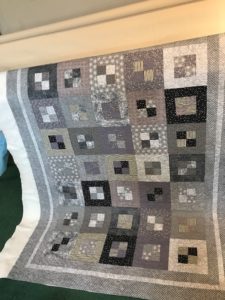 This quilt was made by me.  I used the fat quarters that I received at our Fat Quarter exchange from the Lorain County Piecemaker's Guild.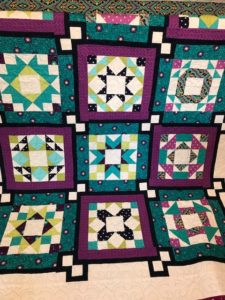 This quilt was done by my friend Sue…it' a BOM from a couple years ago at Birds of a Feather…what a gorgeous job she did!!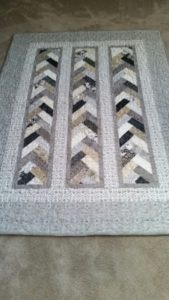 Check out this beauty from Stella…I love the stunning colors!  It's the 2nd one she has created in this colorway..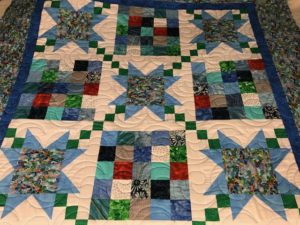 This gorgeous quilt was made by a customer and friend of mine, Elaine.  She always does such a beautiful job!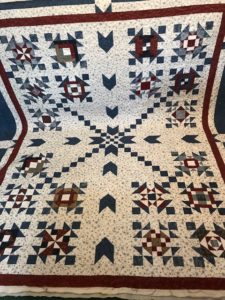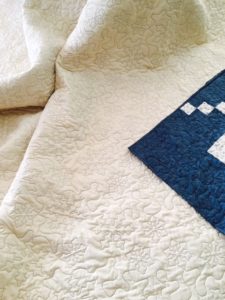 This quilt was made by my friend Sharon from Westlake.  Last November, we went to the Amish Quilt Shop Hop.  There were 10 participating shops, and you could purchase a kit from each shop, with each kit making 2 blocks.  Every participating shop has their own setting kit.  She decided to go with a Moda Grunge for the backing, enabling the snowflakes she picked for the design to show up nicely!  Look at the Label page to see her label!
If you decide to buy all the kits (I think they were $7.00 each), and a setting kit (those were around $100…we know this isn't a cheap hobby! :), you could end up with a masterpiece like this!  When I was done quilting it for Sharon, I left her a message saying don't try to call me back, I was changing my number, because I wanted to keep this quilt! She managed to get a hold of me anyhow……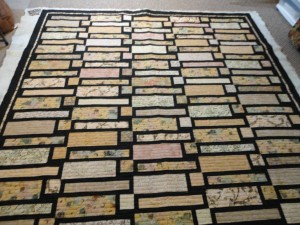 This beautiful quilt was made by Ruthanne from Cleveland.  She selected the "Bricks" pattern from Quilters Niche, which really set it off…nice job, Ruthanne!